Skip to Content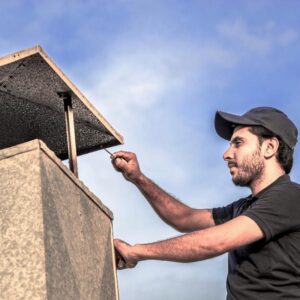 Chimney problems are widespread and a major cause for concern, especially as winter approaches. Homeowners need to pay attention to their chimneys, and in this article, we'll discuss common chimney problems and how to prevent them or take care of them once they've occurred.
Common Chimney Problems
Mortar Joints – Trouble with mortar joints is a serious concern, but if caught early, masonry repairs can be completed. Inspect your chimney for cracks, as even little ones can lead to bigger problems down the road.
Problem with Chimney Liners – Chimney liners, particularly those made of tile, can crack with changing temperatures. If a crack is big enough, it could present a serous fire hazard. Modern chimney professionals can insert cameras into the chimney to check for problems.
Problems with Bricks and Tiles – Shaling tiles refers to when thin pieces of a chimney's tiles begin to break off. Spalling is the term that applies when bricks inside or outside of the chimney have the same problem. Broken bits piling up inside the fireplace or outside at the base of the chimney or visible brick damage are both clear signs. Replacing bad sections and waterproofing is essential to prevent recurrence.
Crown Problems – The chimney crown keeps out water, animals, and debris. Regular inspection of the crown can save you from more expensive fixes later. Even small cracks need attention, and special coatings can provide extra protection.
Problems with Flashing – Flashing provides protection where the chimney exits the roof. Over time, it may weaken from exposure to heat and weather, so it's best to have your flashing inspected regularly.
Problems with Bricks in the Fireplace – Firebricks will eventually crack and break, but monitoring and replacement as needed can keep your fireplace functioning well.
Preventive Maintenance
To avoid any of these chimney problems requires paying attention to all aspects of your fireplace and chimney, and preventive maintenance is the best protection from all of these issues. Preventive chimney maintenance is extremely important, and consists of the following:
Regular Inspections – Having a certified professional routinely inspect your fireplace and chimney is the best strategy for identifying problems early on before they become more serious.
Chimney Sweeping – Regular chimney sweeping removes creosote buildup, debris, or other obstructions that could lead to reduced efficiency or even chimney fires.
Waterproofing – Applying a waterproof sealant to the chimney's exterior can prevent water intrusion which could freeze and expand, causing structural damage.
Flashing Maintenance – Regularly checking and repairing flashing as needed.
Crack Repair – Repairing small cracks will prevent them from becoming more serious.
Firebrick and Liner Monitoring – Again, early detection of any problem with the bricks or liners can prevent serious trouble.
Cap Maintenance – As part of the inspection process, checking the condition of the chimney cap is the best way to prevent problems.
Conclusion
Chimney problems vary widely, from the bricks and mortar joints to the chimney crown and firebricks. Preventive fireplace and chimney maintenance by certified fireplace professionals is not merely a recommendation but a necessity for maintaining a safe and functional fireplace system.  By being diligent about taking care of your fireplace, you can keep your family safe and your fireplace operating at peak performance.
Who To Call
For over 25 years, Chimney TEK has provided top-quality chimney services throughout Maryland, focusing on customer satisfaction and long lasting results.
New Service: Brick Step Repair
In addition to all of the services we offer, we have introduced a new service – brick step repair. Our efforts here will focus on the integrity of the brickwork around your chimney. Weather and usage can degrade brick steps, but our expert masons specialize in repairs, ensuring a functional and attractive appearance.
As a family owned and operated business, we offer preventive masonry and restorative care using top industry brands like Napolean and Regency. Our team is certified by the Chimney Safety Institute of America (CSIA) and consistently trained and educated through the National Chimney Sweep Guild (NCSG). As a result of our commitment to top-notch service, we've been privileged to receive the Angie's List Super Service Award every year since 2012. We view each and every service call as an opportunity to serve our neighbors and to make the lives of those in metro Baltimore and the surrounding communities safer and more enjoyable. We're also professionally trained and experienced masons with the skills, tools, and knowledge to repair and restore your masonry chimney and fireplace.