Skip to Content
Reasons for An Outside Mounted Chimney Cap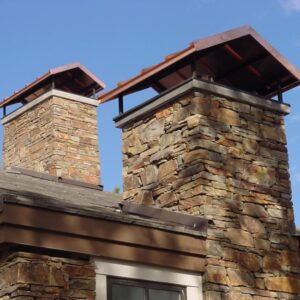 Most people associate chimneys with winters and fireside nights, but none of that is possible without a properly working fireplace. As winter approaches, you should consider getting your chimney squared away. That means having your fireplace inspected by a professional and having any needed repairs or preventive maintenance performed before you light your first fire of the season. In addition, if you don't already have one, this is a perfect time to have a chimney cap added to the top or your chimney.
What Exactly is a Chimney Cap?
A chimney cap is a protective cover placed at the top of your chimney. A mesh ring around the top of the chimney mouth topped with a hat of sorts protects your chimney from weather. These are typically made of galvanized steel, stainless steel, or copper, and they're available in a wide variety of styles to blend perfectly with the architectural style of any home. The main purpose of a chimney cap is to shield the chimney's opening from various external elements and to ensure a proper draft in your chimney. In this article, we'll highlight some of the essential functions that a chimney cap serves:
Reducing Moisture
Chimney Caps are vital in reducing and removing moisture from your home. Water damage can include damaged liners, dampers, and mortar joints, leading to mold, mildew, and increased humidity. The chimney cap acts as an umbrella for your chimney to keep rain or snow out.
Keeping Animals Out
Chimneys are attractive nesting spots for rodents, birds, bugs, and other small and unwanted creatures. A chimney can keep most of these pests out of your chimney, protecting your home from invasion.
Reduces Downdrafts
A downdraft occurs when wind blows down the chimney, causing smoke and odors to enter the home instead of venting out through the chimney. This can be unpleasant and even dangerous as it could lead to carbon monoxide entering the living space.
Blocking Debris
Leaves, twigs, and other debris can get lodged in a chimney, causing obstructions that may lead to smoke backing up into the house. Chimney caps are designed with mesh sides to keep this debris out of the chimney.
Reducing Fire Risk
Sparks and embers from a burning fire can escape through an open chimney, potentially igniting nearby flammable objects like leaves or roofs. A chimney cap contains these sparks and embers, reducing the risk of a fire starting outside the chimney.
Enhancing Aesthetic Appeal
In addition to its functional benefits, a chimney cap adds an aesthetic touch to a home's exterior. Various designs and materials allow homeowners to choose a cap that complements their home's architectural style, contributing to the overall visual appeal.
Energy Efficiency – An uncovered chimney can be a source of energy loss, allowing warm air to escape in the winter and cool air to escape in the summer. A chimney cap can reduce this energy loss, helping to maintain the temperature inside the home and potentially lowering energy bills.
Compliance with Local Regulations
In some jurisdictions, local building codes may require the installation of a chimney cap. Compliance with these regulations is essential to avoid legal issues and potential fines.
The chimney cap acts as an umbrella for your chimney to keep rain or snow out.
A chimney cap serves as a vital component in maintaining the functionality, safety, and aesthetic appeal of a home. From preventing water damage and keeping animals out to enhancing energy efficiency, and reducing fire risks, the benefits of having a chimney cap installed are numerous. It's a relatively inexpensive investment that can save homeowners from costly repairs and the dangers associated with an unprotected chimney. Homeowners seeking to protect their investment and enhance their homes safety should consider the installation of a chimney cap.
For over 25 years, Chimney TEK has provided top-quality chimney services throughout Maryland, focusing on customer satisfaction and long lasting results. As a family owned and operated business, we offer preventive masonry and restorative care using top industry brands like Napolean and Regency. Our team is certified by the Chimney Safety Institute of America (CSIA) and consistently trained and educated through the National Chimney Sweep Guild (NCSG). As a result of our commitment to top-notch service, we've been privileged to receive the Angie's List Super Service Award every year since 2012. We view each and every service call as an opportunity to serve our neighbors and to make the lives of those in metro Baltimore and the surrounding communities safer and more enjoyable. We're also professionally trained and experienced masons with the skills, tools, and knowledge to repair and restore your masonry chimney and fireplace.