Skip to Content
Wood Fireplace Buying Guide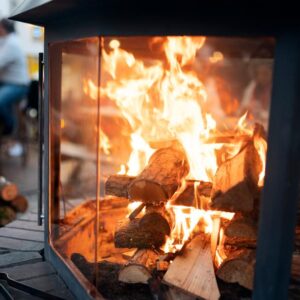 Purchasing a wood fireplace can add not just warmth but also a dash of elegance to your home or cabin. With advantages like unmatched heat production and the comforting ambiance of a natural flame, wood fireplaces are especially ideal for colder climates. However, making the right choice involves navigating through multiple factors like budget, design, features, and ventilation requirements. In this article, we'll provide information that will help you to make an informed decision.
Setting a Budget
The financial aspect can't be overlooked when considering such a significant home upgrade. A basic wood fireplace unit can start around $ 2,500, while a top tier, feature rich model could come with a hefty price tag of $ 10,000 or more. Keep in mind that these figures generally only cover the fireplace unit itself. Additional costs include:
Installation – Professional installation is highly recommended for safety reasons.
Framing – The unit might need to be enclosed in a specific structure.
Ventilation – Your choice might require a new chimney or a ventilation system.
Masonry – Additional brickwork or stonework could be needed, depending on the design.
Always consult a qualified contractor who can provide a more customized budget estimate.
Styles to Consider
Your stylistic preferences and your home's layout play a significant role in determining which type of fireplace will best suit your needs.
Built-In Wood Fireplaces – These are often recommended for new constructions or renovations. Built-in models require a dedicated framed space and are highly customizable.
Wood Fireplace Inserts – These are designed to slide into existing fireplaces making them more efficient, as they reduce heat loss through the chimney.
Wood Stoves – These standalone units offer great versatility, especially for spaces like cabins or lodges, where there may not be an existing chimney.
Must-Have Features
Several features can enhance your wood fireplace experience:
Ash Pans – These can make the clean-up process less daunting by collecting ashes underneath the firebox.
Efficiency Boosters – Features like refractory linings in the firebox and integrated blower systems can help distribute heat more effectively, making your unit more energy-efficient.
Tool Kits and Accessories – Fireplace tools, log holders, and fire backs can be very useful for wood fire management. Also, screens can add an extra layer of safety by preventing embers from escaping.
Understanding Ventilation Requirements
A proper ventilation system is essential for any wood-burning fireplace. Depending on the design, ventilation can vary from traditional single-shaft chimneys to more modern systems with separate intake and exhaust channels. Always be conscious of the following:
Local Building Codes – These can dictate what type of ventilation system is allowed.
Manufacturer's Guidelines – Your chosen unit will have specific requirements that must be followed for safe and efficient operation.
FAQ's: Common Questions Answered
How Much Should I Budget for a Fireplace? – Your budget must accommodate the cost of the unit, installation, and any additional feature you want to include.
What Style of Wood Fireplace Should I Get? – This depends on your space, whether you have an existing chimney, and your specific aesthetic preferences.
What Are the Ventilation Requirements? – Ventilation needs vary and will depend on your home's architecture. Above all, they must comply with local building and safety codes, as well as the manufacturer's guidelines.
What Features Are Essential? – Prioritize features based on your needs and budget. You may want more ease of cleaning, greater heat efficiency, or safety features like screens or fire resistant hearth rugs.
Investing in a wood fireplace is a long-term commitment that can enrich your life in many ways, from offering efficient heating to enhancing your home's ambiance. Equipped with the information in this article, you are now better prepared to make an informed decision.
Who To Call
For over 25 years, Chimney TEK has provided top-quality chimney services throughout Maryland, focusing on customer satisfaction and long lasting results.
As a family owned and operated business, we offer preventive masonry and restorative care using top industry brands like Napolean and Regency. Our team is certified by the Chimney Safety Institute of America (CSIA) and consistently trained and educated through the National Chimney Sweep Guild (NCSG). As a result of our commitment to top-notch service, we've been privileged to receive the Angie's List Super Service Award every year since 2012. We view each and every service call as an opportunity to serve our neighbors and to make the lives of those in metro Baltimore and the surrounding communities safer and more enjoyable. We're also professionally trained and experienced masons with the skills, tools, and knowledge to repair and restore your masonry chimney and fireplace.
For more information about our company or the products and services we provide, contact us via our website, or give us a call at 410-684-0127.