Skip to Content
Gas Fireplaces vs Traditional Fireplaces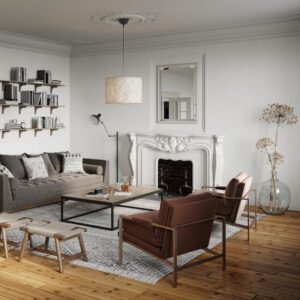 Fireplaces have been a cornerstone of human dwelling spaces for centuries. They symbolize warmth, ambiance, and comfort. However, the debate between modern gas fireplaces and traditional fireplaces is a more recent development. In this article, we'll discuss the pros and cons of each type of fireplace.
Traditional Fireplaces
The charm and ambiance of a wood burning fireplace are often considered unparalleled and deeply evocative. The crackling sound of burning logs, the soft flicker of the flames, and the delightful aroma of wood smoke combine to create a sensory experience that reaches into the human soul. It evokes memories of family gatherings, romantic evenings, and festive holidays. The visual dance of the flames and the warmth radiating from the hearth create a soothing and welcoming environment. The ritual of building the fire, the satisfaction of nurturing it, and the rustic appeal of the wood all add to the rich comforting allure. A traditional wood burning fireplace is more than just a source of heat; it's a timeless symbol of coziness and connection, providing a natural gathering point for friends and family.
Pros and Cons of a Traditional Fireplace
Pros:
Aesthetics – The sight and sound of crackling wood offer a rustic ambiance.
Independence from the Utility Grid – They can be used during power outages.
Potential Fuel Availability – In areas where wood is plentiful, fuel can be inexpensive or free.
Cons:
Maintenance – Requires regular cleaning, ash removal, and wood storage.
Efficiency – Significant heat loss can occur through the chimney
Environmental Concerns– Emits pollutants affecting air quality.
Safety Features
Spark Prevention – Screens or glass doors minimize sparks escaping the fire box.
Aesthetics
Classic Appeal – Authentic burning wood provides a timeless appeal.
Modern Gas Fireplaces
A gas log fireplace brings a unique charm and ambiance to a room. With the flip of a switch, it ignites warmth and a pleasing visual aesthetic, mimicking a traditional wood burning fireplace without the mess. Its consistent  flames dance and create a soothing atmosphere, while the range of designs allows for perfect integration into any home décor. The ease of use, combined with the gentle flicker of flames, adds a sense of tranquility and sophistication that encourages relaxation and conversation. It's a modern touch with timeless appeal.
Pros and Cons of Gas Fireplaces
Pros:

Ease of Use – Easily activated with a button or switch.
Efficiency – Some models offer up to 90% efficiency.
Clean Burning – Fewer emissions and pollutants.
Design Flexibility – Various styles, sizes and locations are available.

Cons:

Dependency on Gas Supply – Relies on a consistent supply of gas.
Aesthetics – May not fully replicate the traditional experience.
Initial costs – Higher upfront costs for installation.
Safety Features
Carbon Monoxide Detection – Reduces the risk of poisoning.
Auto Shut-Off – Automatically extinguishes the fire if it gets too hot.
Aesthetics
Contemporary Designs– Can fit in with any home décor.
Realistic Flames – Mimics real wood flames.
Conclusion
Choosing between a modern gas fireplace and a traditional fireplace relies on individual preferences, budget, location, and values. Efficiency, environmental consciousness, and ease of use favor modern gas fireplaces, while aesthetics, tradition, and independence from utility grids favor traditional ones.
Both options provide warmth and a room's focal point, each catering to different needs and tastes. Maintenance and inspection are vital for either choice to ensure safe and efficient operation. Whether you choose a sleek modern gas fireplace or a romantic traditional one, the right selection can create a cozy atmosphere and enhance the living experience for you and your family.
Who To Call
For over 29 years, ChimneyTEK has provided top-quality chimney services throughout Maryland, focusing on customer satisfaction and long lasting results. As a family owned and operated business, we offer preventive masonry and restorative care using top industry brands like Napolean and Regency. Our team is certified by the Chimney Safety Institute of America (CSIA) and consistently trained and educated through the National Chimney Sweep Guild (NCSG)  As a result of our commitment to top-notch service, we've been privileged to receive the Angie's List Super Service Award every year since 2012. We view each and every service call as an opportunity to serve our neighbors and to make the lives of those in metro Baltimore and the surrounding communities safer and more enjoyable. We're also professionally trained and experienced masons with the skills, tools, and knowledge to repair and restore your masonry chimney and fireplace.
If you'd like more information about the products and services we offer, contact us via our website or give us a call at 410-684-0217. We look forward to meeting you!