Skip to Content
About Masonry Repair Services in Glen Burnie, MD
Masonry repair is vital to the structural integrity and safety of your property. When masonry structures fall victim to damage due to weather, age, or alternative factors, you may find yourself with structural malfunctions, hazards that pose a risk to your safety, and costly and complex repairs or replacements. If your home's masonry is damaged, ChimneyTek is here to restore the appearance and safety of your property with comprehensive, reliable masonry repair services in Glen Burnie, the Baltimore suburbs, Anne Arundel County cities, Howard County cities, and Carroll County. Our professionals are dedicated to providing high-quality masonry repair services that enhance the function and value of your home.
Signs That You Need Masonry Repair Services
If your home's masonry has become compromised, you may notice one or several of the following signs:
Holes or cracks in the masonry on your walkway or walls
Missing or loose stones or bricks
Leaned or tilted masonry structures
Visible leaks or water damage
Missing or deteriorated mortar
Our Masonry Repair Services
Masonry repair involves repairing damaged brick or stone structures, including walkways, walls, chimneys, and more. This process can be used to remedy cracks, replace damaged pieces, and to address and restore other problems that may be compromising the structure of your home's masonry. At ChimneyTek, we offer our masonry repair services with your home's safety and comfort in mind. We begin by assessing the damage through an inspection that grants us insight into the depth of the repair needs in order to curate the most effective masonry repair plan to restore the damaged masonry of your home.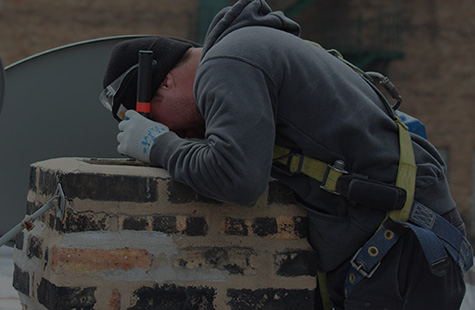 Our Masonry Repair Process
The professionals at ChimneyTek provide masonry repair services that ensure long-lasting and high-quality results. We provide our masonry solutions to customers looking to have their chimney, walkways, walls, fireplaces, or other brick or stone features remedied by quality masonry repair services. Our masonry repair services include the following:
Inspection to assess the depth of the damage
Curate a personalized repair solution
Preparation of the area to eliminate damage and loose masonry
Perform repairs
Thorough clean-up of repair site
Enhance Aesthetic Value & Safety
By repairing your damaged or dated masonry you can enhance the aesthetic value of your property. This not only allows you to reap the benefits of a flawless home, but also contributes to your property's resale value, making it more appealing to potential buyers. Deteriorated or dated masonry can also affect the safety and comfort of your home, especially when it comes to masonry structures that are responsible for supporting heavy loads or masonry structures that are in areas of heavy foot traffic. Damaged masonry can make your property more susceptible to accidents or injuries.
Choose ChimneyTek for Your Masonry Repair Services
When your home's masonry needs professional intervention, ChimneyTek is here to ensure you receive the quality service you need. Backed by over 20 years of experience and up-to-date on the latest training, our professionals use industry-leading materials and offer competitive prices to help our customers achieve solid, long-lasting masonry repairs.
Schedule Your Masonry Repair Services Today!
Don't wait until the damaged masonry on your property becomes a hazard . Rely on the experts at ChimneyTek for prompt and reliable masonry repair services. For cost-effective service performed by reputable professionals, contact our friendly team to schedule your masonry repair services today!
Call Today to Schedule Chimney Service!