Skip to Content
We Sell & Install Protective & Attractive Chase Covers
Today, prefabricated or factory-built chimney systems are more popular than ever. They are affordable, lightweight, and designed to be installed quickly, which makes them a popular choice for homeowners on a budget or those lacking an area strong enough to support a masonry chimney system. But just like their masonry counterparts, factory-built chimney systems rely on key components for protection against animals, debris, and moisture. In the masonry world, the chimney crown is what seals off the chimney top. But in the prefab world, this piece is referred to as the chase cover.
Chase covers are made of metal – typically galvanized steel, stainless steel, or copper – and sit right on top of the chase itself, which is the metal enclosure surrounding the chimney flue where it extends past the roof. Without a chase cover, your prefabricated chimney will be under constant attack from rain, snow, and sleet (depending on the season), and will be vulnerable to animal, bird, and debris entry. Not only can all of these things cause damage like rust and corrosion, but they can also easily lead to a house fire when they come into contact with the high heat produced by your fireplace, insert, or stove. All of these things can be dangerous and expensive to fix, which is why prevention is key.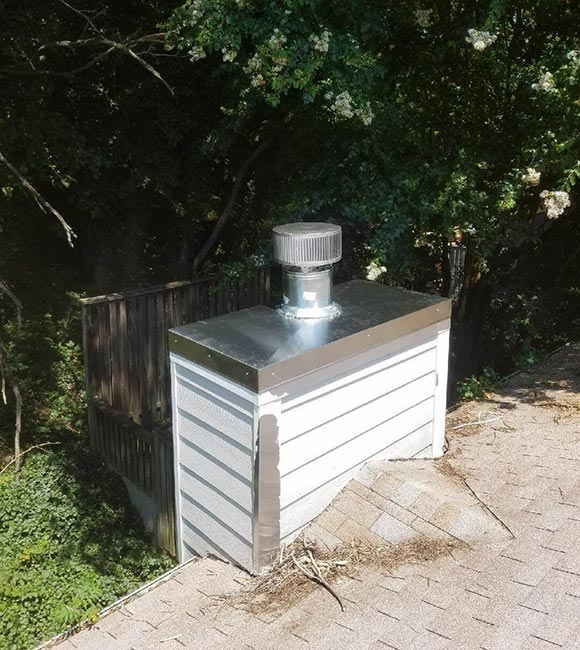 We Make Chimney Protection Easy
Keeping your prefabricated chimney system protected doesn't have to be hard. In fact, with ChimneyTEK, it's easy. We'll measure your chimney chase and find a chase cover that perfectly fits with your chase. Our technicians are certified by the Chimney Safety Institute of America (CSIA) and have over 20 years of experience fitting and installing chase covers of all types and sizes. We'll make sure your new chase cover is installed properly and ready to protect your prefabricated chimney, season after season.
If you're in need of a new chase cover or would like to have yours inspected for proper fit and condition, call ChimneyTEK at 410-796-8450 or click here. We're here to make prefabricated chimney care and maintenance easy, stress-free, and affordable. Call or click today!
When it comes to sales and installations, we know a lot about the best-performing dampers on the market today. You can count on our commitment to quality and customer satisfaction every time.
Call Today to Schedule Chimney Service!