Skip to Content
Professional Smoke Chamber Repair Services in Baltimore
ChimneyTEK Can Restore Your Smoke Chamber
Many homeowners in Baltimore, MD may never give their chimney's smoke chamber much thought. However, that could be a mistake. ChimneyTEK offers fireplace smoke chamber repair services to keep your family safe and allow you to enjoy your fireplace correctly. Your smoke chamber lies just above your fireplace and is an upside-down funnel-shaped area leading up into the flue. The smoke chamber encourages smoke and combustion byproducts to enter the flue and exit your chimney swiftly, so no creosote is deposited along the walls of the flue and smoke chamber. We proudly offer chimney smoke chamber repair services to extend the lifespan of your chimney. Get in touch with us today to schedule a chimney service.
The Importance of Smoke Chamber Repair
The smoke chamber is susceptible to a lot of heat and corrosive byproducts, potentially deteriorating your chimney prematurely, especially those smoke chambers made of corbelled brick, which was popular for many years. That corbel pattern can delay the exit of smoke and byproducts, leading to creosote deposit and damage to the smoke chamber. The smoke chamber becomes less effective over time from that buildup and damage, and you're more likely to encounter safety and efficiency issues. System inefficiencies may occur, and smoke may even waft back into your home, which is dangerous to your health. Defective smoke chambers are the third leading cause of chimney-related house fires, according to the National Fire Protection Association. Any holes, cracks, or gaps in your smoke chamber need to be sealed as soon as they are discovered. These issues are not easy to spot for homeowners, requiring a professional to inspect your chimney and repair the damage. Parging your chimney's smoke chamber can repair the issues and prevent more costly and significant future repairs.
Signs You Need Chimney Parging
You may be putting your family's health in jeopardy without even realizing it. A damaged smoke chamber can put you at greater risk of carbon monoxide exposure. ChimneyTEK will check out your smoke chamber during our routine chimney inspections. One of the more common problems we find is an unlined smoke chamber, allowing the heat and smoke from fires to absorb into the masonry and weaken the chimney's structural integrity. Jagged edges or pieces can stick out of the smoke chamber, allowing smoke and fumes to escape. Creosote is not only very damaging to your system, but it is also highly flammable, and you certainly don't want it to build up inside your fireplace and chimney, putting you at higher risk for a chimney fire. Parging is one solution for repairing your smoke chamber. Parging utilizes a refractory mortar and smooths and seals the masonry surface. Sometimes the interior walls will also need to be rebuilt. Having your smoke chamber parged will encourage better airflow, improve chimney efficiency, and reduce dangerous backdrafts.
The Anatomy of Your Fireplace
By now, you may be wondering about the anatomy of your fireplace. We've told you where the smoke chamber is, but where does it stack up in relation to the other parts of your chimney? When you schedule a chimney inspection from ChimneyTEK, we inspect your chimney from top to bottom. That means the chimney cap, chimney crown, flue tile, mortar joint, smoke chamber, damper, face brick, smoke shelf, lintel, firebox, and hearth extension are all checked out.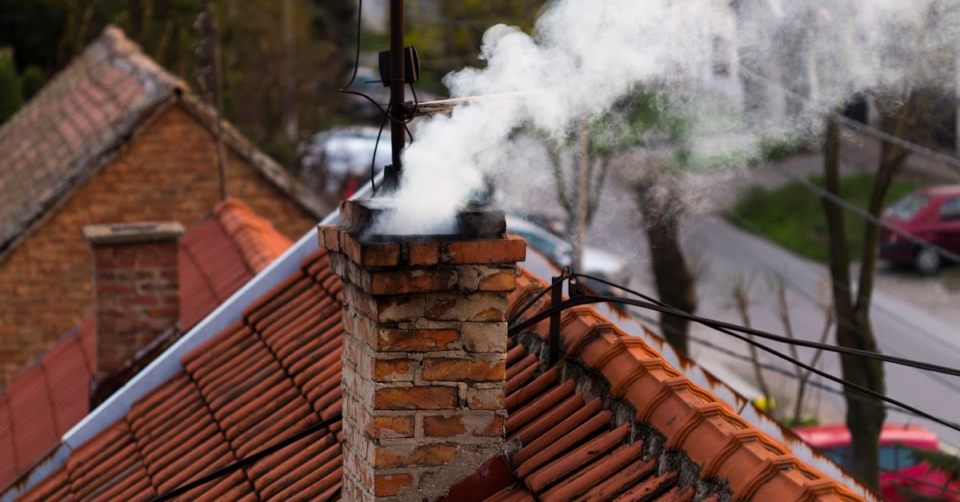 Quality Products & Professional Results
Repairing your chimney's smoke chamber is definitely not something you want to attempt to do yourself. DIY projects are fine for many areas of your home, but chimney repair should always be left to an experienced and trained professional. ChimneyTEK uses Ahren's Chamber-Tech 2000, a lightweight insulating refractory mortar that insulates and resurfaces smoke chambers. Our team has extensive experience repairing smoke chambers using Chamber-Tech 2000 and can provide you with a smooth, airtight smoke chamber surface that encourages the flow of smoke and gas. You will also enjoy a better-insulated smoke chamber, so you won't have to worry about the heat of the fire coming into contact with nearby combustibles. The truth is that most masonry fireplaces could use some help because heat, time, moisture, and acid have attacked them and taken their toll over the years. The smoke chamber was often neglected before Chamber-Tech 2000. It's difficult to clean and maintain your smoke chamber, so having it repaired correctly is the best answer. Chamber-Tech 2000 is the answer to rough, uninsulated, deteriorated, or improperly formed smoke chambers. Choose ChimneyTEK and Chamber-Tech 2000 for the most efficient and cost-effective solution to your fireplace smoke chamber issues.
Why Choose ChimneyTEK?
ChimneyTEK is not the only company that offers smoke chamber repair, but we pride ourselves on being the best. We repair mortar smoke chambers and offer heat shield smoke chamber repair services. If your smoke chamber is damaged or adding to your smoke and efficiency problems, we encourage you to get in touch with us. Our Chimney Safety Institute of America certified professionals would be happy to take a look at your system and let you know if Chamber-Tech 2000 is the best and most cost-effective solution to your smoke chamber woes. If you're worried about cracked or crumbling mortar, our team is also qualified to do the tuckpointing work needed to restore your masonry's structural integrity. We're known around Baltimore for our chimney and masonry repair services, so contact us today.
Call Today to Schedule Chimney Service!