Skip to Content
Our Chimney Relining Options Are Effective, Long-Lasting, & Affordable
The flue of your chimney plays perhaps the most vital role in the venting of your fireplace, stove, or furnace, but what happens when the liner undergoes damage and what causes this damage?
Cracks, holes, and other types of flue liner damage can be incredibly dangerous because they can allow heat, moisture, and byproducts to come into contact with nearby flammable materials and walls; infiltrate the home's air supply; and ultimately compromise the structural integrity, efficiency, and safety of the entire system. If a chimney inspection has revealed damage along your flue liner, ChimneyTEK can help.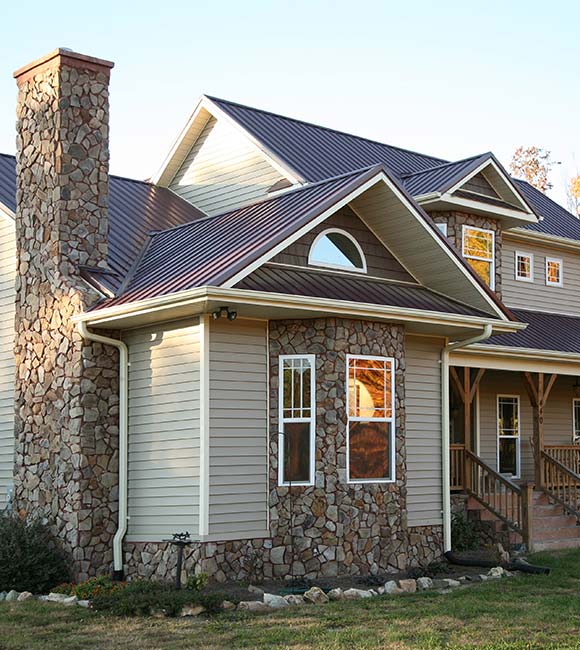 Causes of Damage and Deterioration
Flue liners are typically constructed of clay tiles or metal, and though both materials can provide long-lasting and effective service, the following can lead to damage and deterioration:
Moisture – When moisture makes its way into the chimney flue (typically as a result of masonry damage, a missing cap, or a damaged crown), it can cause metal liners to rust and corrode, and clay tile liners to crack and crumble.
High Heat & Corrosive Byproducts Like Creosote – Although flue liners are built to be tough and durable, corrosive byproducts, creosote, and the high temperatures produced by the fire can take their toll on metal and clay liners, especially if they are not professionally maintained and cleaned on a regular basis. Over time, these byproducts and temperatures can cause flue restrictions, holes, fractures, and other damage along the lining of the flue.
House Settling Or Earthquakes – Although house settling is normal and earthquakes are rare in our area, both can cause cracks and other damage to clay tile flue liners.
Our Relining & Resurfacing Options
We reline and resurface using the most trusted and professional products on the market: Stainless Steel Forever Flex Liners from Olympia.
Stainless Steel Forever Flex Liners – Forever Flex stainless steel liners are constructed of the highest quality metal available and are flexible, airtight, and watertight. Because stainless steel is approved for venting all fuel types, these liners can be great relining options for oil furnaces, gas fireplaces, wood stoves, and pellet stoves. Plus, they come with an unparalleled warranty. Click here for more information.
Think you may have a pesky chimney leak? If so, call us now for this chimney service to avoid more extensive and costly repairs down the road. We can help!
We'll Let You Know Which Option Makes The Most Sense For Your Chimney
If you think your flue liner may need some resurfacing or relining work performed, contact the Chimney Safety Institute of America (CSIA)-certified professionals at ChimneyTEK! We specialize in providing fast, effective, and long-lasting flue relining and resurfacing work, and will carefully evaluate your system and make recommendations for restoration. For scheduling, please call us at 410-796-8450 or click here. We look forward to working with you towards a safer and more enjoyable home life!
Call Today to Schedule Chimney Service!