Skip to Content
About Dryer Vent Cleaning Services in Glen Burnie, MD
At ChimneyTek, we are committed to keeping the homes of our neighbors throughout Maryland as safe and as efficient as possible. That's why we're pleased to extend our services beyond the chimney realm and into dryer vent cleaning services in Glen Burnie, the Baltimore suburbs, Anne Arundel County cities, Howard County cities, and Carroll County.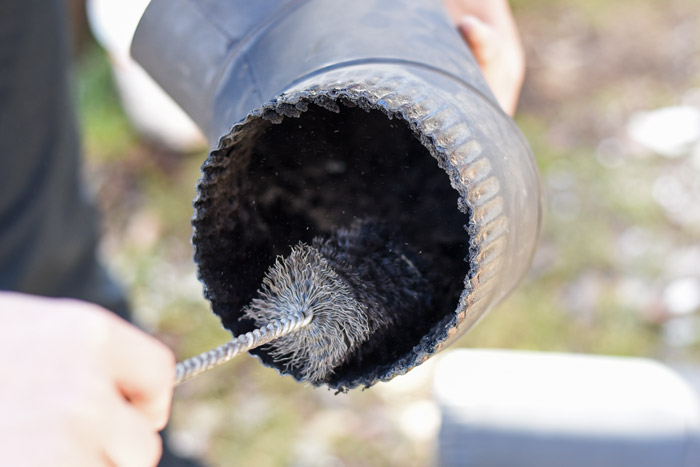 The Importance of Dryer Vent Cleaning Services
Dryer vents can be hazardous and inefficient if they aren't properly maintained and professionally cleaned. Lint and other flammable debris can accumulate within the vents, posing a fire hazard and significantly reducing the efficiency of the system. As lint builds up in layers, your dryer begins to work harder and harder to dry each load of clothes, resulting in hotter temperatures, longer dryer times, and an exhausted appliance. These all add up to an increased risk of house fire if you are not proactive about your dryer vent cleaning services. Dryer vent fires are the second leading cause of residential fires in the U.S., and regular dryer vent cleaning services are important to reduce this risk.
Signs You Need Dryer Vent Cleaning Services
If you notice the following signs, it's time to contact our experts as soon as possible for a dryer vent cleaning service:
Your clothes take a long time to dry
Your dryer becomes very hot when in use
The dryer vent hood is not opening
You've noticed a burning smell
Our Dryer Vent Cleaning Process
ChimneyTek is certified by the Chimney Safety Institute of America, and we are industry leaders in providing thorough and highly effective dryer vent cleaning services. Our services include a thorough cleaning, inspection, and professional recommendations to help you uphold the safety and integrity of your home. Using innovative tools designed to remove lint and buildup from within the dryer vents, without causing damage to the vents themselves, our professionals carefully clear your dryer vents for maximum efficiency and safety. We use powerful vacuums to capture lint, dust, and debris to ensure a comprehensive and effective cleaning.
What's Included in Our Dryer Vent Cleaning Services
Our dryer vent cleaning services include the following:
In-depth inspection
Comprehensive cleaning of the vent and internal components
Duct replacement
Inspection and cleaning of vent cover
Cleaning the door of the dryer
Minor maintenance solutions
The Benefits of Dryer Vent Cleaning Services
There are a range of benefits to having your home's dryer vent professionally serviced, including:
Reduce the risk of fires and carbon monoxide poisoning
Cost-effective and safe
Enhance the efficiency of your dryer
Prolong the lifespan of your dryer
Avoid costly repairs and replacements
The Frequency of Dryer Vent Cleaning Services
Homeowners may need dryer vent cleaning services at varying times depending on usage levels, the length of their dryer vent, and the type of dryer they own. Typically, we recommend our customers pursue dryer vent cleaning at least once each year. Larger families or those who use their dryer often may require more frequent cleanings.
Choose ChimneyTek for Trusted Dryer Vent Cleaning Services
When you choose ChimneyTek for your dryer vent cleaning services, you can ensure you're working with reputable professionals who value the safety, function, and comfort of your home, providing you with the highest level of quality workmanship and customer service. For safe, reliable, and cost-effective dryer vent cleaning services you can rely on, contact our friendly team of professionals to schedule your service today!
Call Today to Schedule Chimney Service!