Skip to Content
Keep Your Home Safer & More Efficient With Maryland's Best Dryer Vent Cleaning Services
Those of us here at ChimneyTEK are committed to keeping the homes of our neighbors throughout Maryland as safe and as efficient as possible. That's why we're pleased to extend our services beyond the chimney realm and into dryer vent cleaning.
Dryer vents, like chimneys, can be hazardous and inefficient if they aren't properly maintained and professionally cleaned from time to time. No, creosote isn't a problem for dryer vents, but lint and other flammable debris can accumulate within the vents, posing a real fire hazard and significantly reducing the efficiency of the system as a whole. As lint builds up in layers, the clothes dryer itself works harder and harder to dry each load of clothes, resulting in hotter temperatures, longer dryer times, and an exhausted appliance. Longer dry times, higher temperatures, and flammable lint all add up to an increased risk of house fire. But you can be proactive about reducing your risk and prolonging the lifespan of your dryer by scheduling professional dryer vent cleanings.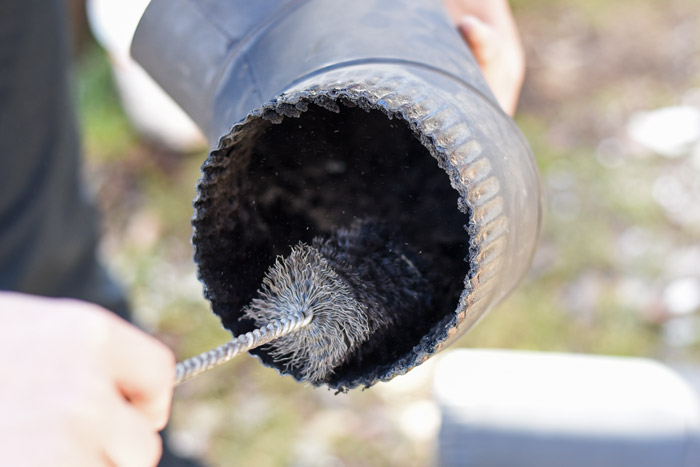 You Can Trust Our Professionals To Do The Job Right & Without Mess
The team at ChimneyTEK is certified by the Chimney Safety Institute of America (CSIA) and specializes in providing thorough, highly effective dryer vent cleaning services. We use professional tools that are designed to remove lint and buildup from within the dryer vents, without causing damage to the vents themselves. We also use powerful vacuums that capture every last bit of lint and prevent dust and debris from entering the home during the cleaning process. When you have your vents cleaned by the professionals at ChimneyTEK, you can rest assured you're getting the best possible service and the most professional results.
Request Your Professional Dryer Vent Cleaning Today
If you haven't had your dryer vents professionally cleaned recently, give ChimneyTEK a call at 410-796-8450. Keeping up with dryer vent cleaning services is a smart, proactive, and cost-effective way to decrease your risk of fire and carbon monoxide poisoning, and to keep your energy costs low. After all, if your vents are clear, your dryer will be able to do its job faster and more effectively – meaning less energy and time waste. Call or click here to get started!
It's so easy to schedule a regular chimney sweeping, so what are you waiting for? Call now to schedule this important chimney service to help keep you and your family safer and healthier.
Call Today to Schedule Chimney Service!